Afghanistan: 'I feel betrayed. We feel left behind'
UK nationals and former interpreters stranded after British forces pulled out of Afghanistan have told the BBC they feel abandoned. Now hundreds are fearing for their safety following a UK government data breach.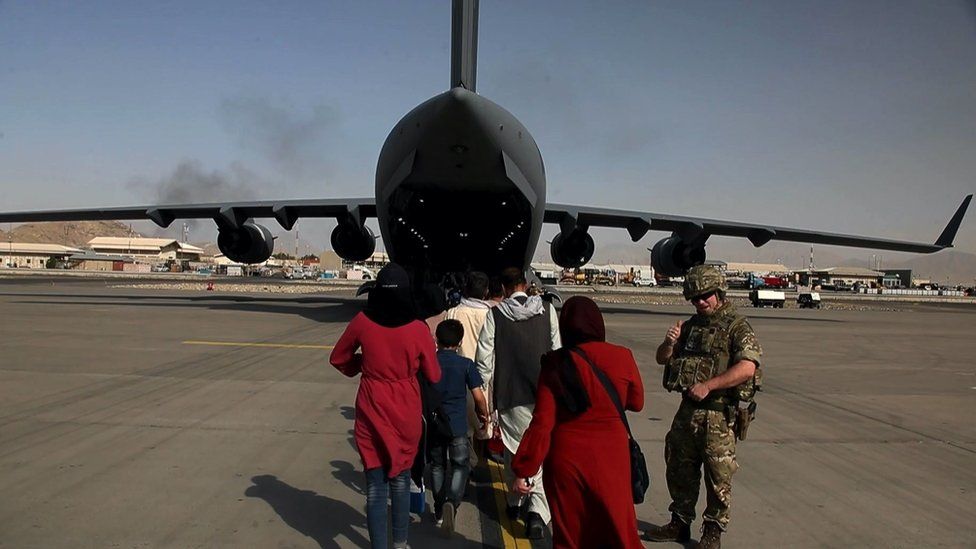 Ahmad, not his real name, is in hiding in Afghanistan. He is one of more than 250 Afghan interpreters and local staff whose names and some profile pictures were mistakenly shared in a Ministry of Defence data breach.
He is eligible for relocation under the UK government's Afghan Relocation and Assistance Policy (Arap) but he is still in the country.
When Ahmad received the MoD email he says he initially "felt good". "I thought, they're still chasing our cases."
Then he realized the error. The email addresses and names of all the recipients could be seen by everyone on the email. Many of those who got the email, like Ahmad, remain in hiding, fearful their lives could be in danger.
The government has apologized to those affected and an investigation has been launched. But Ahmad says the error could put him in danger.
"I'm sure that it will have a negative impact on our safety", he says. "We are already displaced from our home town. "Ahmad was shot by the Taliban while on patrol as an interpreter with British troops in Helmand, in 2011.
Before the airport in Kabul closed last month, officials told him to take his family there to be evacuated. But the crush to get on flights was too much for his baby daughter.
Left behind in Kabul, he now lives apart from his wife and child to try to keep them from danger. "I feel betrayed and we feel left behind," he says. "We were the people deserving to be relocated."
"I am living from place-to-place, going door-to-door. It is very difficult for me financially and from the security perspective - and also mentally."
"Just when you think it can't get worse than this, along comes [the email]," he told the BBC.
Abandoned Brits
Since mid-August, when the Afghan government fell, the UK says more than 15,000 people have been evacuated from Afghanistan.
The BBC understands this includes more than 8,000 UK nationals, while a few hundred more have made it out under their own steam. Two flights out of Kabul to Doha in the past week have carried a further 26 British nationals and four Afghan spouses.
Officials will not say how many British citizens have still to make it out of the country but chat among the community left behind in Afghanistan gives a sense of the scale of the problem facing Liz Truss, the UK's new foreign secretary.